Canton FOUNDATION & BASEMENT REPAIR
Licensed and insured foundation professionals in northeast Ohio
Foundation Repair in Canton, OH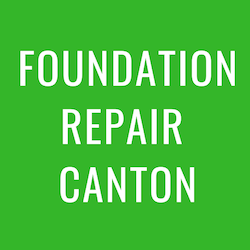 Our foundation repair and basement waterproofing company is a leader in delivering long-term structural stabilization solutions for homes and commercial business throughout Canton-Akron region in northeast Ohio.
Our skilled and highly qualified contractors, engineers, foremen and technicians work together to repair foundation cracks, leaks, sinking, settling, and bowing at affordable rates. We provide long-term, warrantied remedies, and our work is backed by 100% satisfaction guaranteed. We are able to make that promise thanks to our decades of experience fixing a full range of foundation issues with proven, modern methods.
If for any reason you believe your foundation, basement or crawl space may be failing, be proactive in having the structure assessed by professional contractors. Fixing small problems before they become much bigger may save you a large amount of money, quite a bit a stress, and it will help keep you and yours safe in your home.
Fortunately, many of the foundations we evaluate throughout the year merely require cosmetic crack treatment that is reasonably priced and capable of efficiently eliminating basement leaking and additional cracking.
We hope to help you. Call our home office in Canton, OH for a free residential or commercial inspection and estimate on your schedule.
Our Stark County contractor services
We understand better than most that dealing with foundation troubles can be extremely frustrating. For homeowners, it often takes you away from work, your family, and your daily routine. For businesses, it may result in lost production and revenue. Never mind the costs involved in fixing the structure.
For that reason, we're dedicated to effective, long-lasting foundation restoration services for cracking, bowing, heaving, sinking, leaking, wet, and failing basements. We strive serve you as promptly as possible at cost that fits your budget and keeps money in your pockets and purses.
We offer many foundation stabilization and masonry repair services (keep reading below to get the lowdown on the specifics) to residents and commercial business, throughout Canton, Massillon, Louisville, and Stark County.
First things first. When you call us with a foundation problem we set up an appointment that works with your schedule to thoroughly inspect the interior and exterior of your home or business. This helps determine the cause of the structural issues and what repair methods are necessary to fix them. We take advantage of many repair methods that zero in on specific problems and provide long-term, warrantied stabilization solutions. As part of our inspection, we produce a detailed estimate, plan, and timetable for repairs (if they are required).
Foundation wall cracks typically start small and appear innocent at first glance. However, they may grow larger and longer in time, leading to wet basements, and much worse, structural problems that require professional service.
Most cases of cracking can be fixed without tearing apart the wall and starting from new with a rebuild. The sooner cracks are repaired, the less likely they will evolve into costly project.
We provide a vast range of solutions for cracking basement walls and floors. It is essential that the correct method is used for the best results. The method used is determined by the size of the crack, whether it's running vertically or horizontally, and the overall condition of the foundation.
A bowing foundation wall can be be both expensive to repair and devastating to occupants if left to continue to tip inward. Be proactive in seeking repair for a bowing wall will likely decrease the chance that a new wall will have to be built from scratch. Repairs also offer long-term stabilization for  foundations and prevent further problems.
Bowing is usually the result of impact and pressure from soil and tree roots near the structure. The shifting of soil as it freezes and thaws can cause damage to concrete, stone, and brick basement walls and floors.
In rare cases, a wall is leaning so much that replacement is required. However, in most instances, we install stabilizing braces and anchors to restore the foundation's strength.
Stabilizing a foundation not only corrects the problem, it safeguards it from future soil shifts, weakening soils, and protruding roots.
Sinking, settling, and uneven floors
A fast sinking floor is an obvious sign that a foundation is failing. Uneven flooring is often the result of a foundation is sinking in its soil. In weakened soil, the structure must be stabilized by giant steel shafts that extend to more stable dirt well below the ground.
Sagging and and uneven floors can also be caused by weakened floor joists and girders, and/or improper spacing of support columns when the structure was constructed.
Besides being a major eyesore, uneven floors are dangerous and could turn catastrophic for inhabitants. We deliver reliable fixes to restore settling foundations at affordable rates.
The foundation is considered the most essential component of any structure. If a major issue is present, it may cost thousands of dollars in repairs. Thus, it is suggested that you contact a professional for a complete evaluation if you believe a problem is evident.
Assessments help us make sound determinations on what is causing issues. Armed with this knowledge, we can employ the most effective repair solutions.
Having a foundation inspection performed may prevent problems in the future. Proactively implementing warrantied repairs will often be far less expensive than if you wait for the issue to grow.
At its very core, residential and commercial structures face the same foundation issues. They include cracks, bowing, sinking, sagging, chipping, leaking, and masonry damage.
In addition to providing trusted repairs, we restore, renovate and rebuild all types, sizes, and styles of commercial buildings.
Our contractors possess skill and experience in repairing foundations for municipal buildings, restaurants, churches, schools, office complexes, apartments, shopping and retail centers, malls and more.
In addition to exceptional foundation repair, we also provide quality masonry repair and installation services for homes and businesses in the Cleveland area.
Our highly qualified masons boast the knowledge and talent to stabilized foundations against cracking, bowing, and failing brickwork, stone, and concrete. We handle all problems with walls, chimneys, fireplaces, brick walkways, driveways, brick, stone, and concrete patios and porches, concrete slabs steps and more.
In addition to the services outlined in great detail above, we also deliver the following contractor services near you in Canton:
Basement waterproofing for leaks
Yard drainage
Sump pump installation and repair
Chimney repair and rebuilding
Tipping chimney restoration
Crawl space and slab repairs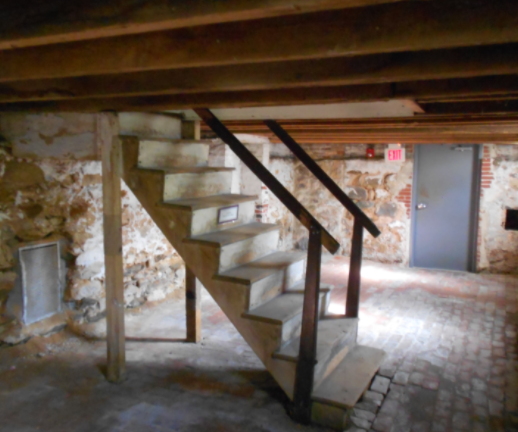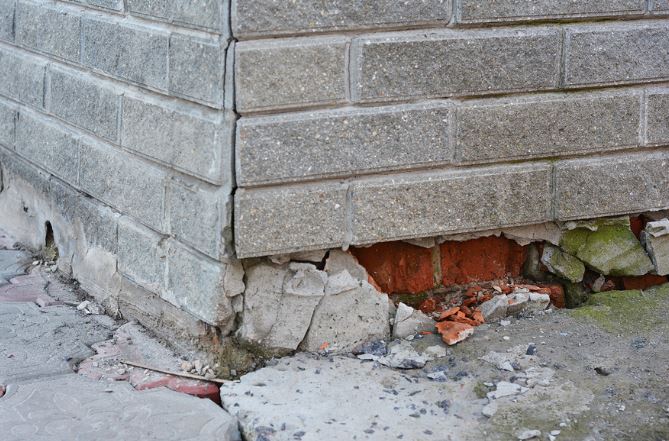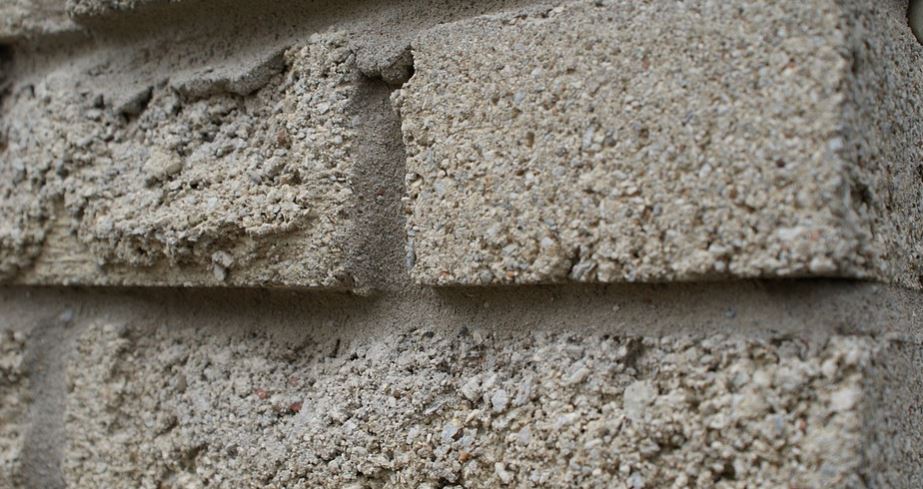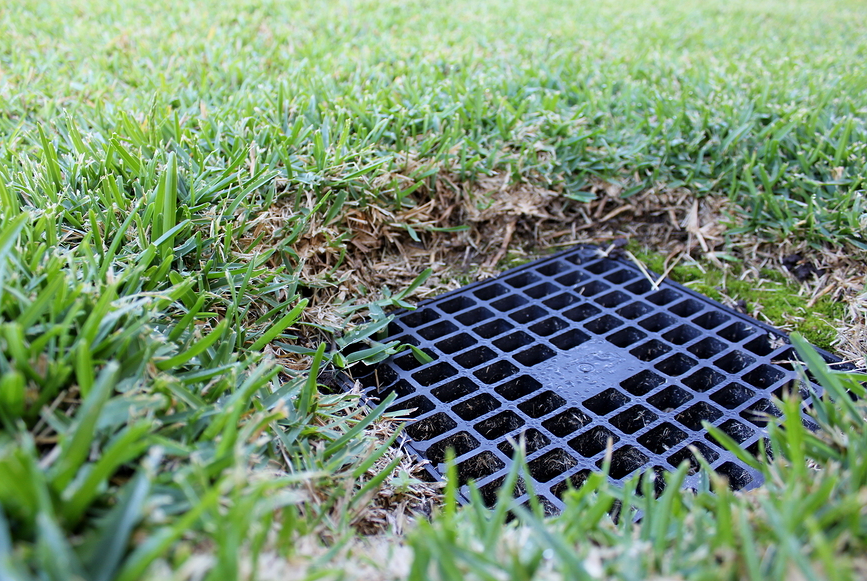 We serve all of Stark County, including Canton, Massillon, Alliance and all towns and communities in between. While we're headquartered in Canton, we travel throughout the northeast Ohio region to fix foundations, basements, crawl spaces, and masonry:
The following is a sampling of cities, towns, and communities where we have worked in the past:
Cuyahoga Falls
North Canton
East Canton
Barberton
Medina
Fairlawn
Massillon
North Industry
Greentown
Green
Portage Lakes
Minverva
Navarre
Brewster
Hartville
Montrose
Munroe Falls
Silver Lake
Green
Strasburg
Paris
Perry Heights
North Lawrence
Louisville
Signs of foundation problems
Obviously, a huge crack (or more) or tipping wall are clear indicators that your foundation needs professional repair work. However, there are several less obvious symptoms of foundation troubles.
If you see any of the following, you may need the assistance and expertise of local professional foundation repair contractor:
Misaligned doors or windows
Cracking in drywall
Gaps around chimney
Tipping chimney
Cracks in the floor
Doors that stick and can't be opened or closed
Displaced moldings
Chipped concrete
Gaps at wall top or bottom
Bouncy floorboards
Windows out of square
Nails popped out
Plumbing leaks
Uneven or sagging floors
When it comes to foundation repair professionals Canton, Akron and northeast Ohio, we know well that you have many companies to choose from. There are a handful of strong basement contractors in our region that have decent reviews on Google, Yelp, Facebook, Home Advisor, Angie's List, and the like.
We give them a ton of credit. We don't like to brag very much, but many of our competitors don't stand up to the great value we deliver in terms of exceptional work at low costs.
If you need the hand of a trusted contractor, select us for the reasons below:
Honest inspections
Before seeking out your credit card information, we offer a free, no-obligation evaluation of your foundation that is honest and detailed. We offer trusted remedies to all problems and present you pricing options that fit your budget. Our free quotes come with no pressure to use us for service.
Cutting edge repair methods
Having access to the latest and greatest methods allows us to offer customers the best repair options at reasonable rates. As equipment and repair technology evolves, we stay ahead of it through regular training, continued education and closely following industry trends.
Affordable rates
Working and living in a blue collar Canton, we know the value of a dollar as much as you do. Our prices may not be the cheapest in the area, they are fair and competitive. We strive to over-deliver for you in terms of value.
Friendly and professional
After we put the finishing touches on your job, there's an okay chance you'll want to spend more time with our employees. That's how fun and friendly we are. Most important, we're professional. We dress sharp, we respect to you and your property, and we're always on time and efficient. No goofing around on the job with us.
One-on-one approach
We're a local company to Canton-Akron that thrives on providing our customers a personal experience. Across the entire process – from estimate and inspection until the job is done to your satisfaction – we keep you updated on our progress with one point of contact. Even better, we always respond promptly to your emails, phone calls, and texts.
Call today to learn more about our contractor services. You can also visit our frequently asked questions section for more information.