Licensed and insured foundation professionals in northeast Ohio
Sinking foundation repair in Canton, Ohio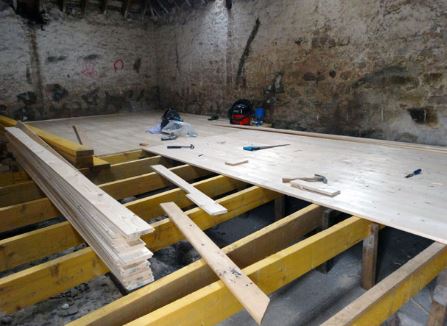 Houses and other structures with foundations, crawl spaces or slabs gradually settle in time as a result from natural sinking in the soil and climate.
While a small amount of settling is to be expected, when underlying soil is poor and cannot properly hold the mass of the structure, bigger issues can arise. Some problems are more visibly and physically obvious while others grow slowly.
Uneven floors and large foundation cracks are clear signals that a basement is sinking and/or shifting. This can negatively affect the structural integrity of a house.
A strong foundation is essential to maintain any structure. Thus, it's crucial that problems causing foundation settlement be remedied promptly by a skilled repair contractor.
Not seeking professional consultation quickly, may result in devastating damages that are expensive to fix.
We give our customer peace of mind by delivering free foundation inspections and estimates on your schedule. With our evaluations, we work to determine the cause of sinking and deliver a quote and repair options that offer long-lasting warrantied solutions.
Get in touch with our foundation specialists in Canton, OH to schedule an on-site appointment.
Signs of basement settling and shifting
For the majority of homeowners, it's not in the normal home maintenance routine to monitor basement walls and floors for sinking, heaving, leaning, cracking, bulging and other problems. Even if you do, the first symptoms of a faulty foundation aren't often visibly noticeable.
There are a handful of other signs to keep an eye out for that may signal that your foundation is in need of stabilization to prevent further settlement. They are:
Cracking in drywall – especially above windows and doors.
Uneven or slanting upper-level floors
Doors and windows that are jammed and difficult to open and close
Screws and nails popped out from drywall
Wet basement floor
Emergence of small cracks and bowing
In most instances of settling foundations, there is nothing the homeowner could have done to prevent sinking. Soil under pressure settles naturally or is weak to begin with.
Hot and dry conditions often cause soil to shrink while moisture may lead to expansion. Poor leveling and sloping around a structure may also cause issues.
In areas where soil is known to be poor and unstable, we suggest checking foundation walls for cracking and bowing on a monthly basis. Also be cognizant of other symptoms of foundation failure as noted above.
These signs don't necessarily mean structural issues exist. Hairline and other small foundation cracks are normal, especially in poured concrete foundations. Likewise, drywall problems and window and door misalignment may have been caused by other troubles in the home.
Even if you're not completely sure foundation problems are present, feel free to contact our team in Canton for a no-cost inspection and quote.
Long-lasting warrantied repair solutions and free estimates and inspections
Repair work is needed to provide stability and support when it's been determined that a basement is settling, shifting or sinking.
We rely on trusted repair solutions to strengthen foundations for many years to come. The method we used depends on the cause of sinking and shifting.
We offer the following affordable foundation leveling services:
Helical piers
Load-bearing piers
Grout injections into unstable soil
Hydraulic lift slab piers that extend into stronger soil below the surface
Steel push piers in cases of erosion and soil shrinkage
Plate anchors for cracking or bowing
Contact us at your convenience to learn more about our proven repair options. We work throughout the Akron-Canton-Massillon region, Stark County and beyond.